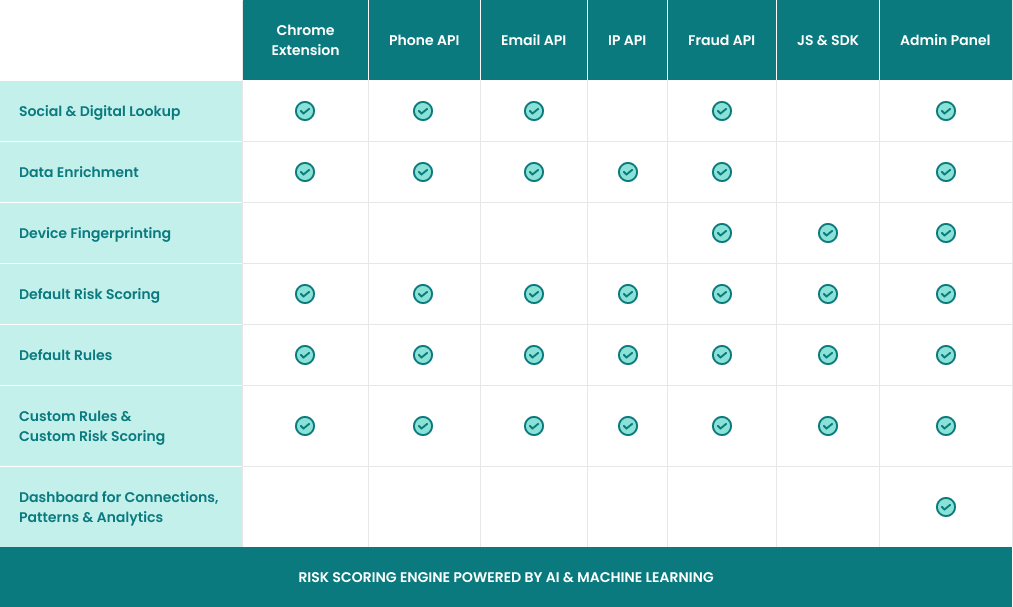 Chrome Extension
1-click no-code install. One-click to lookup any email, phone, IP and social media.
---
JS & SDK
Install Device Fingerprinting using JS for web or SDKs for iOS & Android.
---
Flexible APIs
Suite of APIs built in a modular way as microservices. Pick and mix based on your business needs. Enable specific algorithms at login, checkout or signup, and prevent abuse at the earliest point possible.
---
Admin Panel
User-friendly, web-based, login from anywhere. Dashboard reporting, visual overview of every interaction. See historical activity for every customer. Get visibility into workflows and simplifies collaboration.
---
Quick Start
Please select the product you wish to use to quickly set up the optimal payloads for your use-case
Choose your setup
Server
Please choose your backend environment for quick integration
Industry
Please choose your industry to see relevant example payloads

Use case
Please choose your use case to see relevant example payloads

Full API Reference