Upgrade your account to a paid plan
Updated on 15.02.23
4 minutes to read
Copy link
Overview
Once your 14-day free trial ends, you can continue using SEON for free. The Free plan offers 2000 API calls a month at two queries per second. If you need more performance, you can upgrade your account to the Pro plan easily from the Admin Panel.
If you plan to send more than 25,000 API calls a month, do talk to our team for volume pricing.
Why upgrade SEON
SEON is modern fraud prevention for a new digital generation leveraging digital and social footprints as another way to identify what a person looks like in today's world. Using phone, email, and social media as digital passports help you cut back on fraud rates and unlock new revenue opportunities. Fraudsters don't have this depth of social and digital footprint - it's not economical for them.
With SEON, you're always in control, even when it comes to expenses. Start with our free plan and upgrade as you grow with SEON. 
Upgrade your account when you need to check more than two thousand transactions or need more than two queries per second. Our Pro plan is designed to provide flexibility and scale with you. You only pay for what you use and there are no multi-year commitments.
Hands-on with upgrading your SEON account
You can upgrade your account any time during or after your free trial from the Admin panel. Head to the Plans and Billing page.
1. Click on Change Plan on the Plan Details widget.
2. You can use the four sliders to calculate an estimated monthly fee. The calculation is based on our usual pricing and will not reflect custom or volume pricing discounts.
3. Check the estimated quote in the widget on the right side of the screen.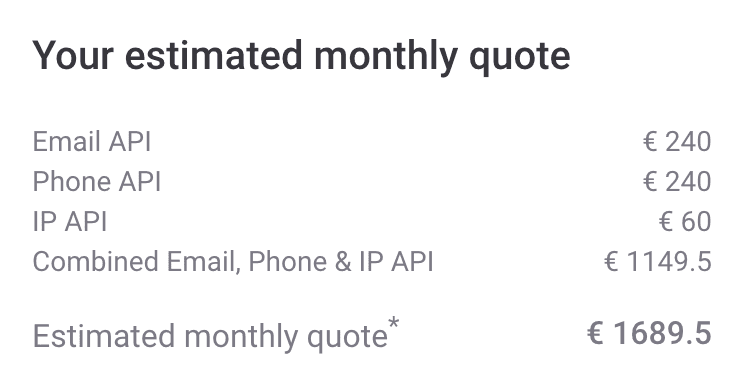 4. Click Upgrade now to continue with your purchase.
5. Enter your billing details in the modal that appears. Use the dropdown menus for the Billing country, Industry, Billing state, and Account type fields to avoid errors.
6. Click Next.
7. Enter the details of the card we should charge each month.
8. Click Upgrade now to complete your purchase.
9. Congratulations, you've successfully upgraded your SEON account! Now let's get back to fighting fraud together!
Was this guide helpful?